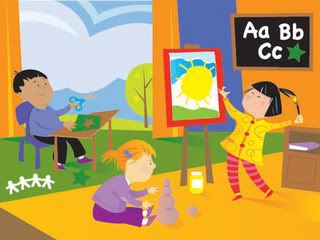 Extended Day
Highlands Elementary School Extended Day program provides working parents an environmentally safe and convenient point of service location to leave their children before- and after-school. The Extended Day program is totally self-supporting and paid for by working parents.
Extended Day provides academic enhancement, tutoring and remediation activities that reflect the standards-based reading and mathematics efforts of the school. The programs also provide a variety of other before- and after-school enrichment activities for students.
Highlands Elementary School
Extended Day Enrichment Program
Payments
AM - $52.00 PM - $100.00 AM/PM - $152.00
Extended Day will only be opened in the morning for the last day of school.
Please have the correct dollar amount when paying for Extended Day. We do not have change. However, we can credit you for the next session.
Fees do not include holidays or days that school is not in session. Also, students picked up after 6:00 p.m. will be assessed a $1.00 late fee for each minute after 6:00 p.m. per child.
*Payments will only be accepted in the form of CASH, CASHIER'S CHECK OR MONEY ORDER, Thank You!
If you need to enroll your child in Extended Day, please do so between the hours of 7:00 a.m.-8:00 a.m. or 3:00 p.m.-6:00 p.m. Thank you.
A late fee is charged for students not picked up by 6:00 p.m.
Contact Information:
Mrs. Sheila Thompkins & Ms. Nana Vidal
Extended Day Directors
696-8754
To download an application for Extended Day, click the link
Highlands Elementary Extended Day Application