Home
or
Click here for more information about uniforms.
---
Motto
"Growing the Eagle Way"
Guiding Vision
We believe that all students at Ramona will become productive citizens by receiving a solid foundation in reading, writing and math as well as observing positive role modeling from the entire staff.
Mission Statement
It is our mission to establish an environment that addresses and promotes the needs of the total child. This environment will provide exciting opportunities for all student, staff members, parents and community members to experience success. Students will learn the importance of working together to solve problems and reach common goals. It is through our efforts as educators that we will provide a meaningful, comprehensive educational program. It is through their efforts as students of Ramona, that they learn, grow, and ultimately come to see themselves as worthwhile, capable individuals with unlimited potential.
Eagle Spotlight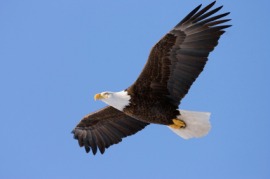 Click grade level for 2012-2013
Supply Lists
ATTENTION PARENTS: PTA and SAC members are needed. If you are interested please contact your student's teacher.
Ramona safety patrols are selling school magnets for $5.00! If you would like to purchase a Ramona Boulevard magnet, please contact a member of our safety patrol.
Support Education and bring in "Box Tops" to your teacher!! The grade with the most tops will receive a prize!!